Number 29 (Kriston's Song) is dedicated to the memory of Kriston Palomo, a 16 year old who was killed in a tragic accident during a high school baseball game on May 4, 1997. My son Kurt and Kriston were teammates on a prestigious "16-and-under" AAU baseball team; the team included the finest players in Southern California and had qualified for the USA Junior Olympics which were to be played that summer in North Carolina.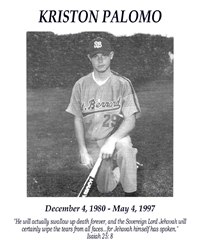 Kriston, number 29 and known to his friends and teammates as "Rook," was a popular and gifted student at St. Bernard's High School in Playa Del Rey, CA. Only a sophomore, he was a highly-touted college and professional baseball prospect after having earned Division 1 all-league honors as a freshman, and having been the first freshman to make the varsity team at his school in 14 years.
Kriston, who was batting .475 and had already hit 9 home runs in the young season, was playing first base and looking up as he moved into position to catch a high pop fly. At the same time, the batter was sprinting head-down to first base. Neither player saw the other, and in the ensuing collision, Kriston's larynx was crushed by the batter's helmet.
I am absolutely certain that at this very moment Kriston is wearing number 29 and playing baseball in heaven for God's eternal all-stars, the Saints, at beautiful Heaven Field.
---
"Number 29" is in the Story Songs category of my songs; there are five basic categories of songs on this website: Christian Songs, Love Songs (including wedding and reception songs), Patriotic Songs, Story Songs, and my three Christian Christmas Musicals (some songs appear in multiple categories).
Need sheet music and accompaniment tracks, or licensing for recording or public performances? Go to the "Contact Ran" page and tell me what you need. Click on any song title to listen to the song.
The Story Songs category includes these songs: