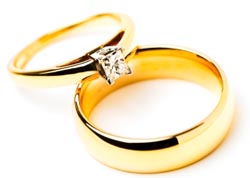 "With This Ring" is a wedding song from my CD "Remember Romance" - it has been sung at many weddings, by brides, by grooms, and by soloists. A taste of the lyrics: "Here in my arms you'll find a harbor, ever-offering refuge. In my heart a lasting passion, not just fervent in our youth. With every fiber of my being, I'll be focused on you. Together forever, husband and wife, partners for life!.....May the sweet fragrance of our romance never fade or drift away.....may the commitments we have made be a joy to us always.....may the witnesses before us rejoice with us this day.....together forever, husband and wife, partners for life!"
---
"With This Ring" is in the Love Songs category of my songs; there are five basic categories of songs on this website: Christian Songs, Love Songs (including wedding and reception songs), Patriotic Songs, Story Songs, and my three Christian Christmas Musicals (some songs appear in multiple categories).
Need sheet music and accompaniment tracks, or licensing for recording or public performances? Go to the "Contact Ran" page and tell me what you need. Click on any song title to listen to the song.
The Love Songs category includes these songs: